I love all styles of beer but as anyone close to me knows, I hold a special place on my palate for dark beers, especially stouts. I like the rich, roasted malt, coffee, and chocolate flavors commonplace to this style and I seize any opportunity to sample a new example of this style. But sometimes, when I crave a stout, I want something tried and true and the perfect example is North Coast Brewing's outstanding Old Rasputin Russian Imperial Stout.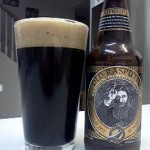 Beer Bio:
Style: Imperial Stout
Calories: 303 (!) per 12 oz. serving
Carbs: 13 grams per 12 oz. serving
Alcohol Content: 9 percent alcohol by volume
Old Rasputin Russian Imperial Stout is a very dark, almost black colored stout and a good pour will produce a large amount of foam likely to overflow your glass. The nose on this stout combines sweet, roasted malt, coffee, and even a hint of alcohol. The flavor follows the nose, with tastes of roasted malt along with coffee, chocolate, and a touch of fruitiness. The alcohol level of this ale is high, but it isn't readily noticeable in the taste.
Old Rasputin Russian Imperial Stout is a delicious example of its style and my favorite among the many great brews produced by California's North Coast Brewing Company. This stout has a complex and delicious flavor profile that continues to please with each passing sip. The roasted malt and other qualities make it a great sipping beer, a great dessert beer, or the perfect companion to serve alongside a grilled steak or other hearty fare.  
Old Rasputin is big, bold, and delicious with a great flavor profile and nice balance between the malt and hops. I find that it tastes best if allowed to warm up just a bit, between about 50 and 55 degrees Fahrenheit. At this temperature, the complex flavors are the most pronounced and the taste is the most enjoyable. I also find that this stout has a very enjoyable aftertaste. Long after my final sip, I could still taste the roasted malt. It lingers for a while and continues to please the palate long after the final swig.
If there is one area of concern with Old Rasputin Russian Imperial Stout, it would have to be the alcohol level. At 9 percent by volume, Old Rasputin Russian Imperial Stout contains about 80 percent more alcohol than the standard, 5 percent brew. What this means is that the alcohol can catch up with you very quickly. Drink four 12 oz. bottles and you have consumed an amount of alcohol equal to approximately seven bottles of beer containing 5 percent alcohol, so you have to be very careful. In addition to that, the calories in this beer are very high. It is one of the few malt beverages with more than 300 calories per 12 oz. serving and its caloric content is more than double that of the typical American mainstream lager.
Stouts are a real treat, particularly if the brewer has paid attention to detail and brewed the stout to be bold and beautiful. Old Rasputin Russian Imperial Stout is exactly that- a rich, full- bodied beer with much to offer and much to celebrate. It's an award winning beer and it rates as one of my all- time favorite American made stouts and one of the best examples of its style found anywhere.
Rating: 10 cheers out of 10