New Belgium Brewing, the environmentally- conscious craft  brewing operation in Fort Collins, Colorado, has just released a new seasonal  beer, Red Hoptober. The beer is a Fall seasonal and will be available from now
through October of this year.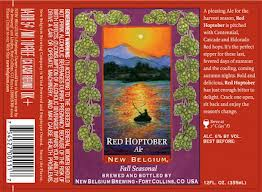 Many New Belgium fans might already recognize the Hoptober name,  and that is because Hoptober was the original New Belgium Fall seasonal. This  seasonal, Red Hoptober, isn't an entirely new beer. It will replace Hoptober
and it is similar to the original, but is brewed with El Dorado hops from  Washington state, adding a new twist to the taste that should win the beer some  new fans.
According to New Belgium Brewing, Red Hoptober has a flavor that  combines caramel and roasted malt notes along with piney and citrus hops. The  taste is still subdued compared to some of the heartier Fall brews on the
market, but the added flavor dimension from the El Dorado hops should please  the craft beer crowd and most will consider it an improvement compared to the  original Hoptober.
Red Hoptober is brewed with moderate bitterness and slightly  above average alcohol content. The official statistics from New Belgium Brewing  show 45 IBU and 6 percent alcohol by volume. The beer is sold wherever other
New Belgium products are currently available but will only be around through  October, so find a six pack or two while supplies last.