Winter is my least favorite time of the year, at least from a climate perspective. From dry skin to sinus problems to numb fingers, there is really nothing enjoyable about the feeling of cold air blowing against the body and I often count down the days to the return of Spring. There is, however, one redeeming factor for the winter season: Winter seasonal beer. These winter seasonal products are often spicy, warming, and often a little stronger than average. A good example of a winter beer that sets itself apart from the spice- enhanced winter crowd is Deschutes Jubelale, a winter ale.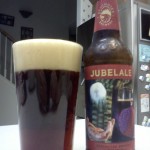 Beer Bio:
Style: Winter seasonal ale
Calories: 216 per 12 oz. serving
Carbs: Unknown
Alcohol Content: 6.7 percent by volume
Deschutes Jubelale is a reddish brown ale and a good pour produces a solid head of foam that sits proudly atop the medium to full body and leaves legs as you consume. The nose on this beer is enticing, with scents of dark fruit, spice, chicory, and a small amount of chocolate. The beer has a strong and pronounced  flavor with the taste of caramel malt up front, followed by raisins, prunes,  figs, a small touch of orange peel and a dab of butter. There is a spiced  finish and the hops, while generous, remain subdued by the malt, which helps to balance the overall flavor.
Deschutes Brewery is ranked among the ten top craft breweries in the United States and among the products I have tasted thus far, I have yet to find a bad one in the bunch. I actually had not yet tried Jubeale until now and given my past experience with Deschutes, my expectations were high. Jubeale, thankfully, didn't fail me. It has a body, complexity, and alcoholic strength along the same lines as Deschutes Inversion IPA and I found it a very good beer for sipping purposes. It is fun to taste slowly, small amounts at a time, as you discern different flavor sensations.
Deschutes brews and sells its Jubelale from October through December each year and like other winter brews, it has a higher alcoholic strength than the average beer. One quality that sets it apart, however, from many winter brews is the lack of spicy emphasis. Yes, there is some spicy character here, but it doesn't overwhelm. Jubeale relies more on its fuller, richer, more alcoholic body to qualify its winter beer status.
Winter is still my least favorite time of year, but one bright spot is winter seasonal beer and Deschutes Jubelale is certainly a winter brew worth seeking out during the cooler season. I like its balance and I like that it doesn't try to distinguish itself through the use of excessive spices. Its complexity, medium to full body, and stronger flavor profile make it just right for the cooler time of year and a few bottles can easily help cure the wintertime blues.
Rating: 8 cheers out of 10