Disclosure: I received a copy of this book to review but I was not financially compensated in any way. The opinions expressed are my own and are based on my observations while reading the book.  This post contains affiliate links, which are used to support this site.
Craft beer is an explosive industry as of late. Drive down the street of any large city and even many smaller ones and you are bound to spot at least one brewery or brewpub with many more in the planning stages. The coattails of this industry growth stretch widely and it isn't surprising that the food industry has taken notice. Not only is more food being served with beer, but beer is also making its way into more foods. Making food with beer is easy and the endless possibilities are the subject of The Craft Beer Cookbook: , 100 Artisanal Recipes for Cooking with Beer
, a book brought to you by Adams Media and written by The Beeroness, Jacquelyn Dodd.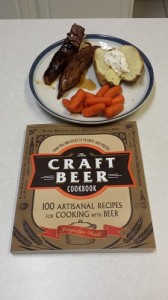 From Breakfast to Dessert
The Craft Beer Cookbook is 223 pages in length and divides its recipes into chapters based on food type. Beginning with breakfast foods then continuing through appetizers, breads, meats, etc., all the way through desserts, this guide presents 100 different recipes calling for craft beer as one of the main ingredients. It could be amber ale added to a chicken dish or an IPA to spice up your next serving of [Read more...]